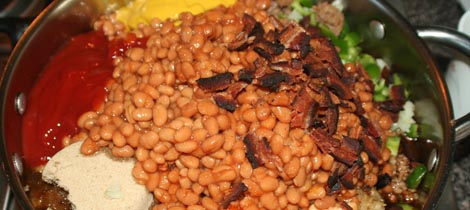 My husband's aunt and uncle used to own a picture framing shop. Nate and I stopped in one day–I don't recall why–and ended up having Christian (Nate's cousin) recount his family's famous Killer Bean recipe to us while he measured and readied a large frame. At that organized point in my life, I opened up my purse and pulled out a blank recipe card and pen. Yes, I used to be just that organized. Don't look through my purse now. Just don't. Okay, so I gave up on purses and now I have a wallet I shuffle between a diaper bag, church bag, and water else I'm lugging someplace. Anyway, back to the Killer Beans. Killer because there is no other side dish bean recipe after you've tasted these. Let's get started.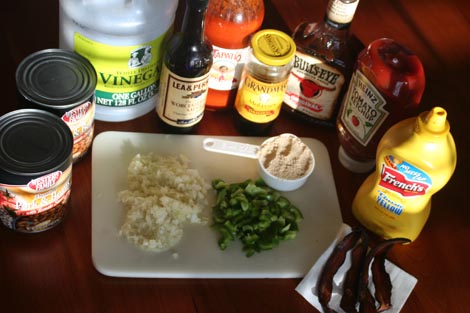 Here's what you'll need:
2 lg. cans pork and beans
1/2 cup BBQ sauce
1/2 cup catsup
2 T. mustard
2 T. vinegar
2 T. molasses
1/2 cup brown sugar
Worcestershire Sauce
Tobasco Sauce
4 slices bacon, cooked and crumbled
1/2 green pepper, diced
1/2 onion, diced
Plus: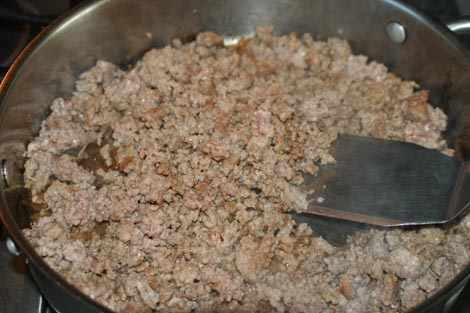 1 lb. italian sausage, browned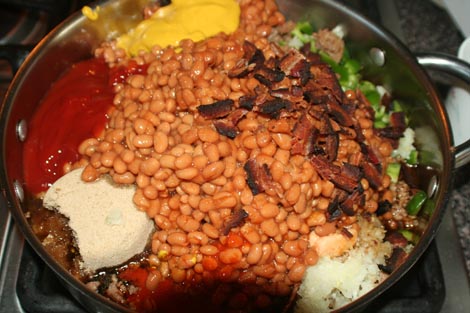 Drain the sausage and stir in all other ingredients.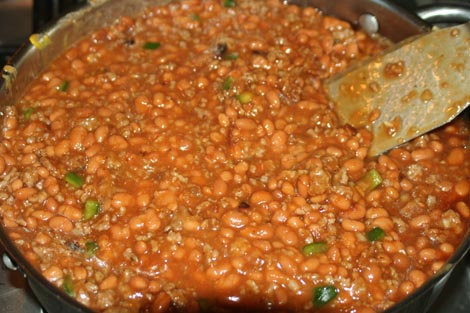 Cook until hot. How easy is that! You can also combine all ingredients in a slow cooker for 4-5 hours. This really lets the flavors out!
It serves about 15 people. Now, because I was making this batch for our spring break, I divided the batch in half and froze it in gallon-sized ziploc bags. Then the morning we left, I grabbed a frozen bag from the freezer and tossed it into the cooler. All I had to do was heat it up the night we ate it for dinner.  I'd cooked and frozen sloppy joe meat and taco meat beforehand as well. I like dinners to be ready fast when we're camping–a little trick I learned from my mom.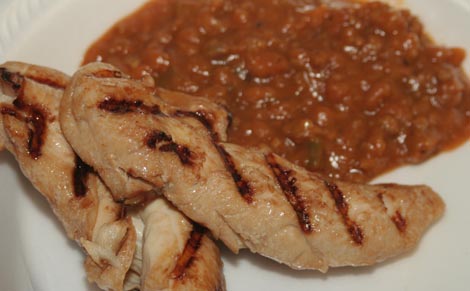 My favorite way to eat Killer Beans is with this BBQ turkey/chicken. Delicious. Recipe coming. Enjoy!
Killer Beans
2 lg. cans pork and beans
1/2 cup BBQ sauce
1/2 cup catsup
2 T. mustard
2 T. vinegar
2 T. molasses
1/2 cup brown sugar
Worcestershire Sauce, to taste (at least 2 T.)
Tobasco Sauce, to taste (at least 2 T., okay you can try just 1 T. if you have to)
4 slices bacon, cooked and crumbled
1 lb. italian sausage, browned
1/2 green pepper, diced
1/2 onion, diced
Brown and drain sausage. Add all ingredients together and cook until hot. How easy is that! You can also combine all the ingredients in a slow cooker and cook for 4-5 hours. This really lets the flavors meld and makes it a little spicier. My mother-in-law likes to throw in some salsa, too. (1/2-1 cup)