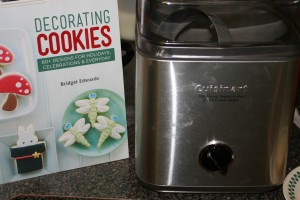 I have been missing from the blog world for quite some time. Life is CRAZY-hectic around here. I've always said we function in Controlled Chaos. That statement grows truer and truer over time. Anyway, thought I'd share one of the things we've been doing.
See that cookbook on the left? My second daughter got it for Christmas and we've been having fun cooking up the cookies in it and decorating them.
See the silver box on the right? That, my friends, is an electric ice cream maker that doesn't require ice and salt. Since we have a milk cow and always have cream on hand, this is the perfect appliance for us. The ice cream maker has a bowl insert that we keep in the freezer. When we want to make ice cream, we mix up the ingredients,  insert the frozen bowl into the ice cream maker, pour the mixture into the frozen bowl, and turn it on. In about 30 minutes, we have homemade ice cream. Yum!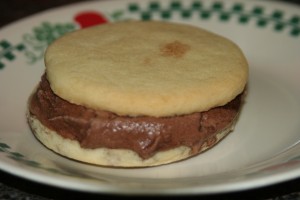 So my daughter and I decided to put these two gifts together to create a mint chocolate ice cream sandwich. Delicious!
What's kept you busy lately?
Mint Chocolate  Ice Cream
1 cup unsweetened cocoa powder
2/3 cup sugar (After making this a couple of times, I only use a 1/2 cup now.)
1/2 cup firmly packed brown sugar
1 1/2 cups whole milk
3 1/4 cups heavy cream
1 T. peppermint extract
Combine cocoa and sugars in a medium bowl; stir. Add whole milk and beat (with an electric hand mixer) on low until sugars and cocoa are dissolved, about 2 minutes. Stir in the heavy cream and peppermint extract. Pour into freezer bowl and let mix until thickened, about 30 minutes in my machine. Check yours for different times. Enjoy!
Use your favorite sugar cookie recipe to make into ice cream sandwiches. Place assembled ice cream sandwiches on a cookie sheet. Place cookie sheet in the freezer until ready to serve.