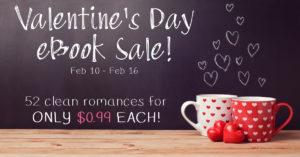 Happy Valentine's Day! To celebrate, I've teamed up with some fantastic authors to bring you 52 amazing romances. The best part? They're only $0.99 each!
These stories feature real-world clean romances. Load up your Kindles! These prices won't last for long.
For the purposes of this sale, "clean" means no on-page sex, minimal violence, and minimal mild language. If these books were movies, they'd be rated PG. "Real-world" means either historical or contemporary (no paranormal or urban fantasy).
Disclaimer: I have not personally read everything listed in this sale. The authors assure me their books meet the above criteria and I've taken them at their word. The individual authors are responsible for the content of their story.