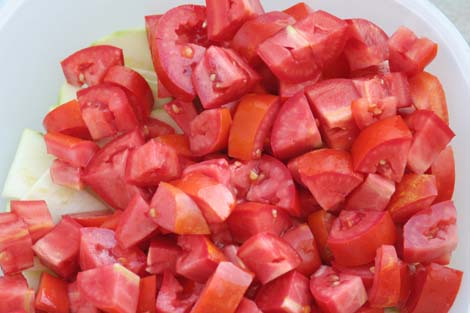 MONDAY
Baked Spinach and Cheese Noodles
Sliced Tomatoes
Green Salad
TUESDAY
Chile
Carrot Sticks
Cinnamon Rolls
WEDNESDAY
Pineapple Pork over
Rice
Sliced tomatoes
Petite Peas
THURSDAY
Carl's Pork Roast
Baked Potato
Sliced Tomatoes
Green Beans
FRIDAY
Enchilada Casserole
Cilantro-Lime Rice
SATURDAY
Sloppy Joes
Potato Chips
(Just for you Kate!) Here are the results of last week's experiments:
MONDAY
Vegetarian No Noodle Lasagna
This was delicious. My zucchini-hating son kept spearing light colored vegetables coated in pasta sauce and asking, "What is this?"
I couldn't really tell from my position so I always said, "Eggplant." (The recipe calls for 1 eggplant and 3 zucchini, so the likelihood of it being eggplant every time?–Well, you can probably figure that out.:)) ANYWAY, he ate the whole thing and loved it. I will definitely make this again, and may even skip the eggplant and throw in another zucchini. Don't tell my son!
WEDNESDAY
Korean Ribs These were fantastic and so easy to throw together. 1 cup soy sauce, 1 cup brown sugar, 5 jalepenos
I'll use the sauce for other meat cuts. I may even try some canned jalepenos when I'm out of fresh.
Thai Coconut  Soup This reminded me of a fancy restaurant soup. It had a unique taste, and it was really good. It's just not something you can eat a lot of, and it's not very filling. I ended up pouring it over a serving of the rice to make it a little more substantial. I have the leftovers in the freezer. Once we eat that, I won't be making this again.
Coconut Rice- Aside from being quite hot, this really had no flavor. I won't be making it again.
FRIDAY
Enchilada Casserole I completely forgot to put this in the crockpot so we heated up homemade freezer burritoes. (We made them in the last Kate's Kitchen episode. They are SO good! I'll let you know when the link is up.)