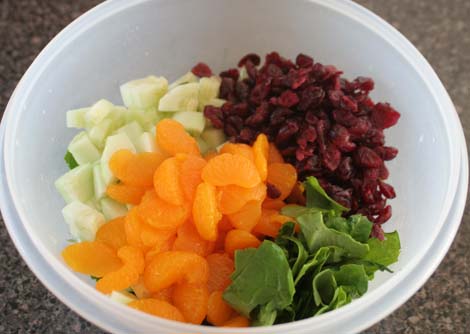 This is one of my favorite spinach salads. I use the dressing for another salad I'll have to share later.
FOR THE SALAD:
1 bag or bunch of Spinach
1 small head of lettuce
(Since I've had so much spinach in the garden, I've left this out and added more spinach.)
1 1/2 cups craisins
1 cucumber, peeled and chopped
2 small (or 1 large) cans mandarin oranges, drained (optional to reserve some liquid for the dressing)
1 can chow mein noodles (or a couple of handfuls)
Mix only the first 5  ingredients.
POPPY SEED DRESSING: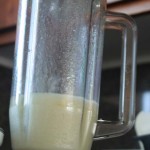 Blend in blender:
1 cup oil (olive if I have it, canola or vegetable if I don't)
3/4 cup sugar
1 tsp dry mustard (I've squeezed in some wet when I've been out of dry.)
1 tsp salt
1/3 cup vinegar
a little juice from the mandarin oranges, if desired
2-3 green onions, optional (It's good both ways, with this salad I usually omit it, but with my other, I add it)
Stir in:
1 Tablespoon poppy seeds
Important: Do not run the blender after you add the poppy seeds. Trust me on this. You don't want a drab gray dressing to pour over your salad.
Drizzle a little dressing over the salad and stir. Don't pour it all in at once. You can always add more. I only ever use 1/3 to 1/2 of the dressing for this salad. I store the unused dressing in the fridge for another salad later.
Sprinkle with chow mein noodles and mix. Ready to serve.