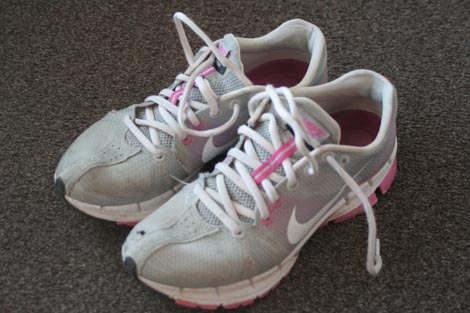 I love these shoes. Whew–it's been an odd running year. When I started this blog, I thought I'd do a regular running post. However, my running life has been crazy this year. I was halfway through typing this post when I realized I should rename it The Running Epistle: Yeah, It's That Long. Then I decided to just give you the highlights and spare you the details.
Roadblocks:
1.Pregnancy-Stopped running.
2. Miscarriage-Longer recovery than expected.
3.Back and Leg Pain-Eventually stopped running.
4. No $ for new Running Shoes for three months-Led to some Aha Experiences.
Aha Experiences:
1. Listened to Interview with author of Born to Run Christopher McDougall.
2. Discovered if I lifted weights I could make it through the day without so much pain. Increased weight lifting to four times a week.
2. Fitted for New Running Shoes-Discovered I have terrible running posture and they were out of shoes in my size. Learned all the clerks run barefoot or in Vibram FiveFingers. Hmm…thinking more about that book now. Maybe I should move Born to Run up on my "to read" list.
3. Tried running barefoot one minute sprints on the treadmill during my 30 minutes of daily walking using the posture and footfall techniques the running store clerk showed me. It really works! It causes no more pain than I already experience daily.
Other:
1. My husband made me go to the doctor to get a physical therapy prescription.
2. Physical Therapist said no more running and asked me what my goals were for physcial therapy. I said to be able to perform my household responsibilities pain free and run a half marathon.
3. Physical therapy exercises are amazing. The pain is tolerable throughout the ominous 4-bedtime hours, and I wake up without pain now if I do my exercises twice a day.
4. I'm halfway through Born to Run by Christopher McDougall. I think I'll post a review here when I'm done.
5. Still thinking about that half marathon. Is there enough time left this year to get it in? (Shh … don't tell my physical therapist.)