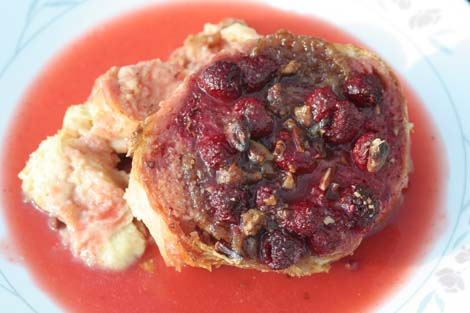 This is a great make ahead breakfast. I served it the morning of the Cattle Drive to visiting family. We have a No Workie, No Eatie policy on Saturday mornings. The children can't eat until their rooms are spotless. I frequently make this on Friday and put it in to cook on Saturday morning while the children do their chores. That way I am free to nag encourage them. I've experimented quite a bit with this recipe. I've even used my homemade whole wheat bread instead of french bread. It takes 45-50 minutes to cook with that option.
Bodacious French Toast (from A Place In Time, with some changes)
A 24-inch baguette (I use one and a half loaves of french bread.)
6 large eggs
2 1/4 cups  milk
3/4 cup  half and half
1/2 teaspoon nutmeg
1 teaspoon vanilla
1 cup packed brown sugar (divided 3/4 cup and 1/4 cup)
1/2 stick (1/4 cup)  butter
1 cup pecans (about 3 ounces), optional
2 cups raspberries, blueberries, or strawberries (fresh or frozen), optional
Spray a 13×9 inch baking dish with Pam . Cut 20 1 inch slices from baguette and arrange in one layer in baking dish. In a large bowl, whisk together eggs, milk, nutmeg, vanilla and ¾ cup brown sugar and pour evenly over bread. Chill mixture, covered, until all liquid is absorbed by bread, at least 8 hours, and up to 1 day.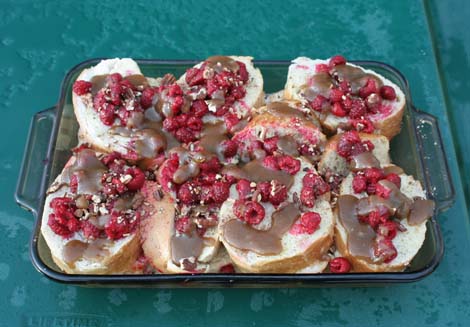 In the morning, preheat oven to 350 degrees F.
In a shallow baking pan spread pecans evenly and toast in middle of oven until fragrant, about 8 minutes.
Increase temperature to 400 degrees F.
Sprinkle pecans and berries evenly over bread mixture. Cut ½ stick butter into pieces and in a small saucepan heat with remaining ¼ cup brown sugar, stirring, until butter is melted. Drizzle butter mixture over bread and bake mixture 25-28 minutes or until any liquid from berries is bubbling.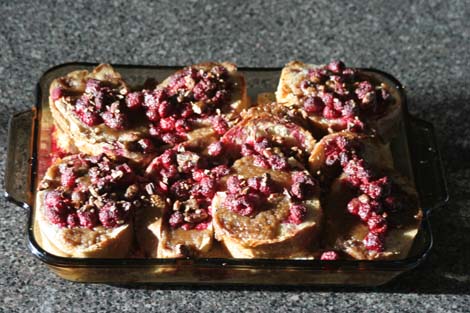 Serve with maple syrup. Serves 6 generously. (I tried strawberry syrup this time but didn't like it as well. The maple syrup compliments the tart raspberry flavor much better.)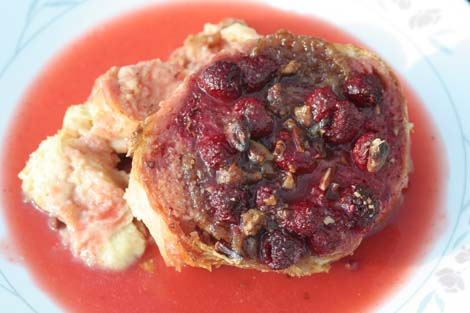 Enjoy!